Sore muscles and joints are a part of life – even the simple life. A homemade heating pad is perfect for relieving minor aches and pains, and it's easy to make.
The secret to our DIY heating pad is rice. Uncooked rice can be heated and re-heated easily in a microwave. It holds a mild heat that can be placed on the skin for relaxing relief over an extended period of time.
Rice hand warmers use the same concept and many of the same steps to make them. A matching set of hand warmers and a homemade heating pad would be thing to include in care packages.
The heating pad was designed to hold a 32 oz bag of rice. This size can typically be found for $1.00 or less.
Use 100% cotton fabric for this project since it will go into the microwave. Quilting cotton is typically 100% cotton and available in a wide variety of colors and prints.
Refrain from adding any metal closures or hook and loop to the heating pad. For safety reasons, it should only be made of 100% cotton fabric and rice.
Continue reading for the list of supplies and step by step instructions for how to make a homemade heating pad.
Supplies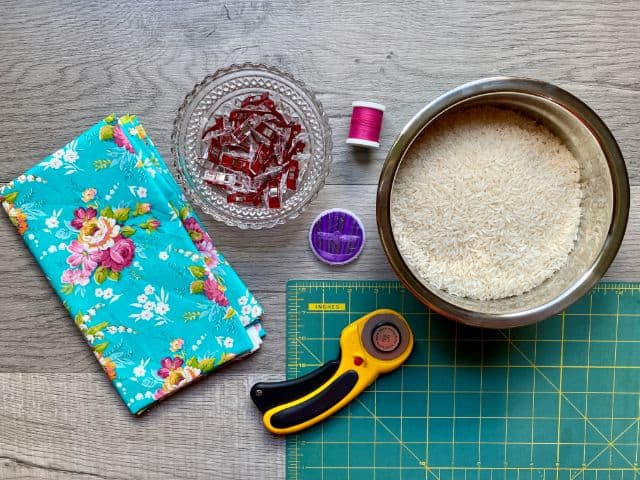 100% Cotton Fabric
32 oz Rice
Thread
Sewing Clips
Hand Sewing Needles
Rotary Cutter
Cutting Mat
Turning Tool
Funnel
You will need the supplies listed below for this project. They are each linked to Amazon in case you need to stock up.
Tutorial
Before cutting, wash, dry and press your fabric.
Step 1 – Cut Fabric to Size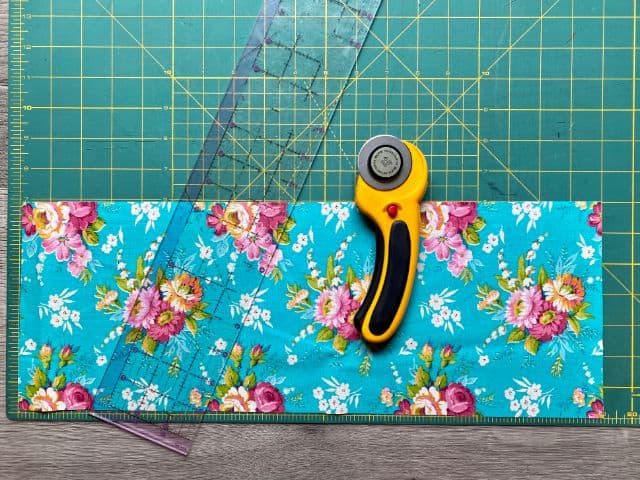 Then cut the fabric to 7″ x 20″ with a rotary cutter and cutting mat or scissors, if you prefer.
If your fabric has a print, keep in mind that the rectangle will folded in half. In other words, the center of each half will make up the center of each side of the heating pad.
A burst of flowers is shown in the center of the example.
Step 2 – Fold Fabric in Half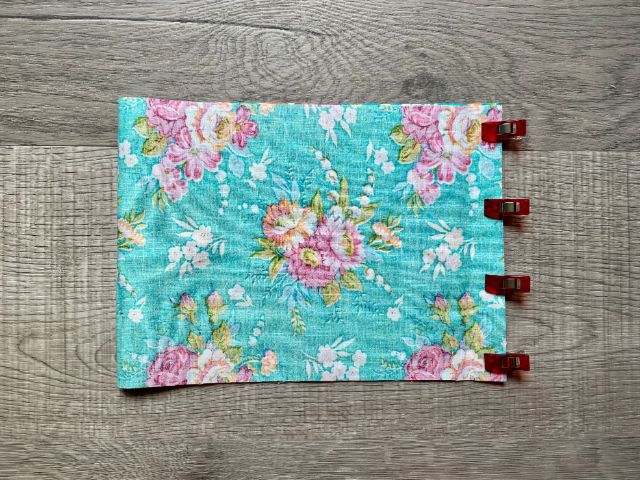 Fold the fabric in half, right sides together, with the short ends meeting. Clip or pin to hold.
Step 3 – Sew Together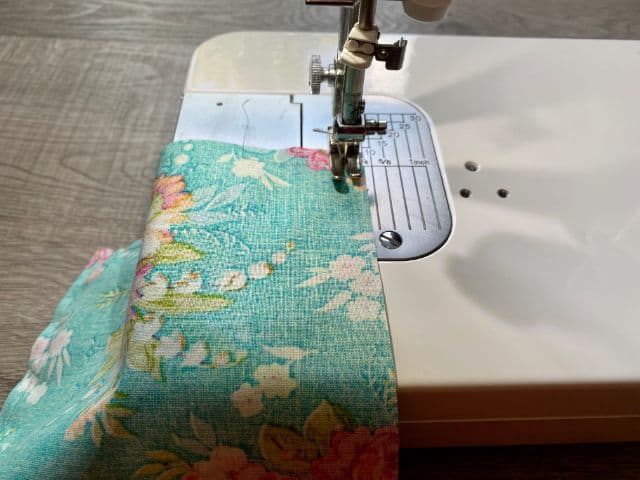 To sew, you will make two lines of stitches. Beginning one inch from the corner of the short sides where the ends meet, sew to the corner with a 1/4″ seam allowance.
Then lift your presser foot, and continue sewing down the side and off the fabric at the bottom.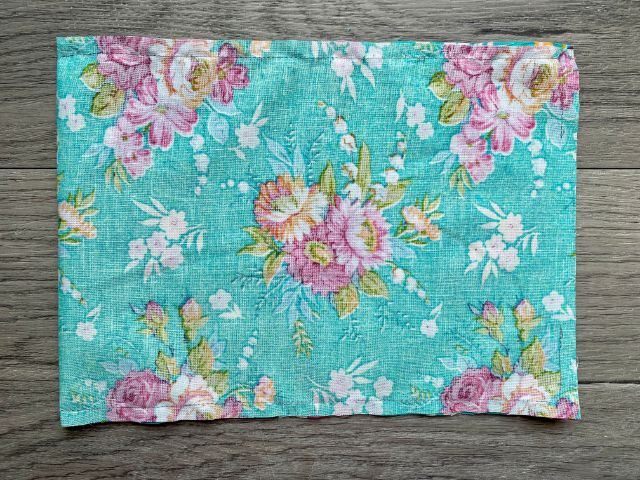 Repeat on the opposite side of the fabric rectangle. Essentially, you are making a rectangle that is closed all the way around except for 3″ at one end.
Step 4 – Turn Right Side Out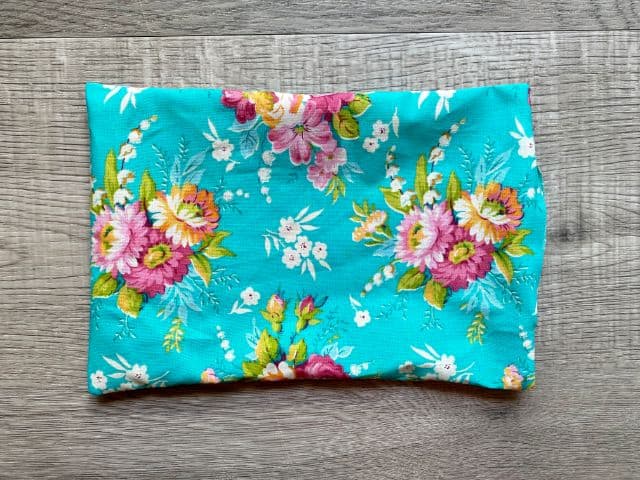 Turn the fabric right side out. A turning tool can be helpful to press out the corners. Take care not to punch through the fabric.
Step 5 – Fill with Rice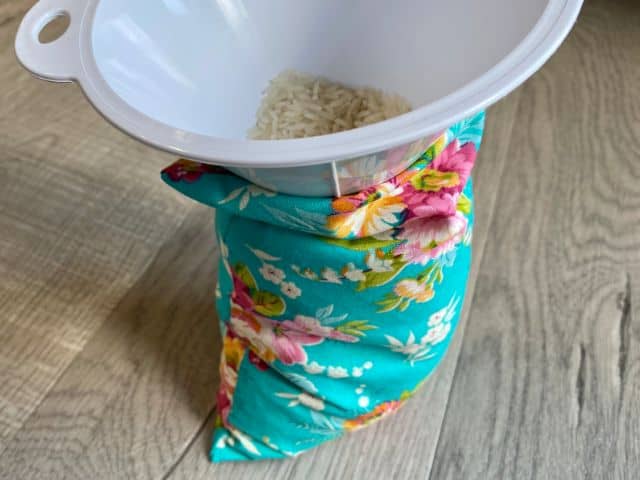 Next, fill the fabric pouch with rice. A funnel makes this step quick and easy.
Now prepare a needle and thread for hand stitching.
Step 6 – Hand Stitch to Close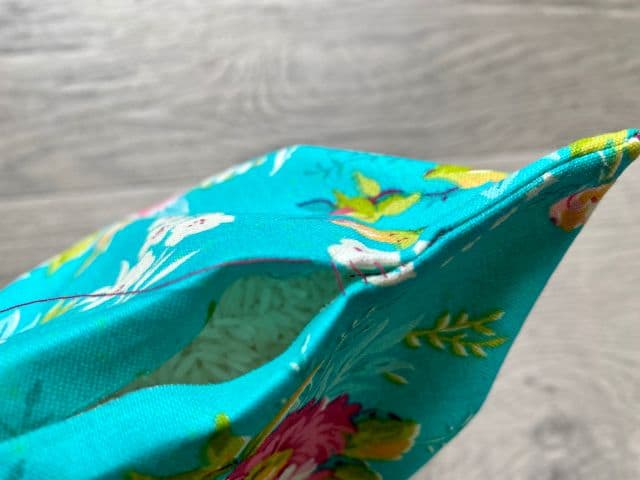 Use a ladder stitch, sometimes called an invisible stitch to close the opening. If you need guidance for this part, check out our guide on How to Sew Common Stitches by Hand.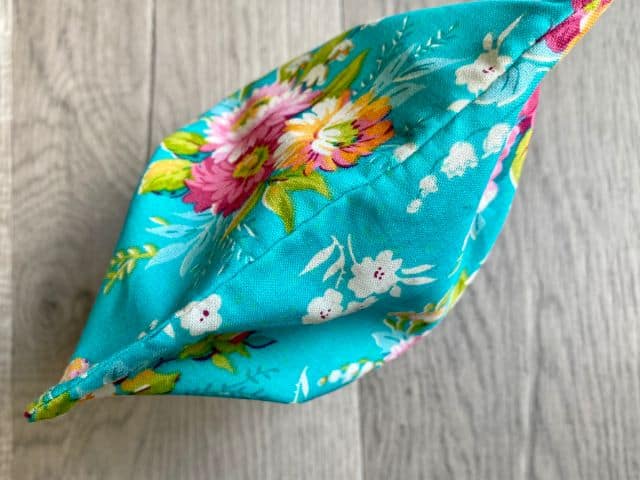 Continue stitching until the rice is fully enclosed.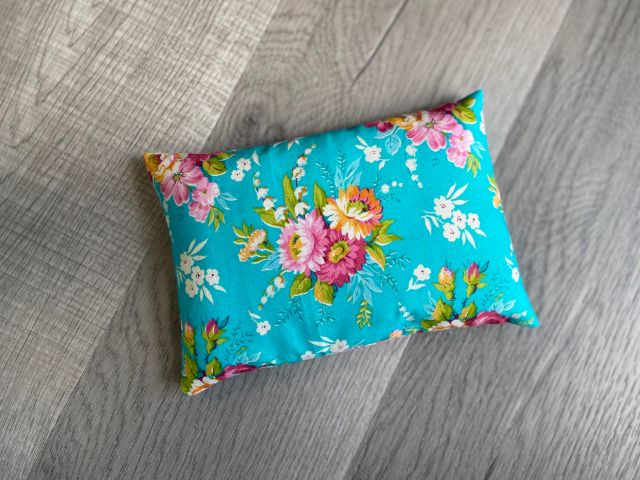 Your homemade heating pad is ready to use!
Use
To use the heating pad, heat it in the microwave for 2-3 minutes. Microwave ovens can vary, so take care to test the warmth before placing it directly on the skin.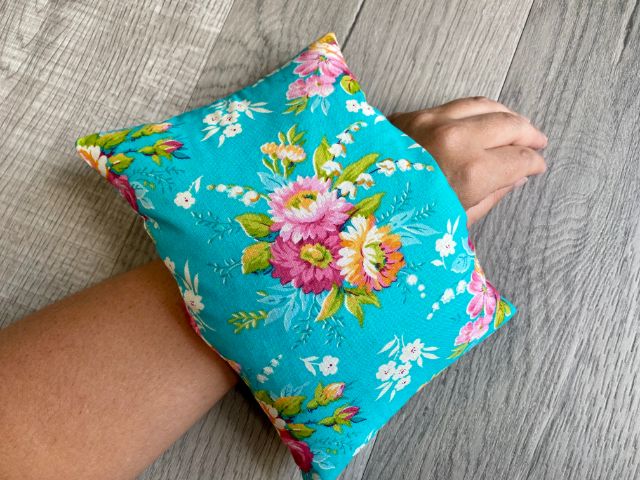 If the heating pad is too hot, you can either wait for it to cool down, or place a towel between the heating pad and your skin.
Lay the heating pad across the affected area – shoulders, knees, ankles and wrists are most common. Allow the heat to relieve aches and pains. Re-heat as desired.
Care
It is best to spot clean the heating pad by hand when it it gets dirty. Heavy soils can warrant a spin in the washing machine. However, the rice takes quite some time to fully dry. Time in the warm sunshine is helpful.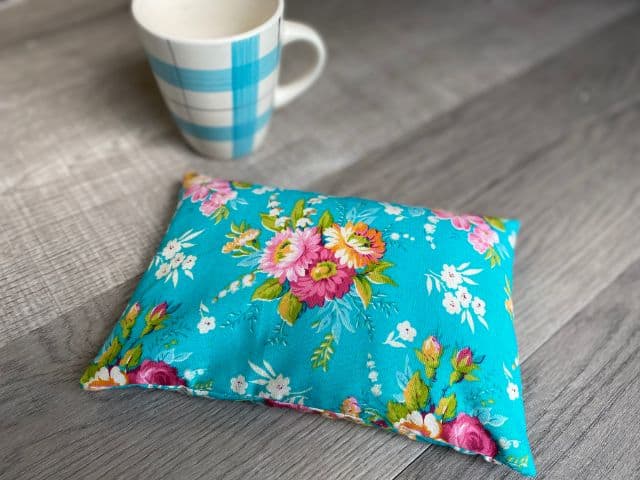 Don't forget to pin this project for later, and check out some more easy sewing projects for beginners listed below.
Yield: 1 Heating Pad
Homemade Heating Pad with Rice
How to make a heating pad filled with rice. This is an easy sewing project for beginners and makes a great gift.
Materials
Instructions
Cut fabric 7" x 20"
Fold fabric in half, right sides together, where short ends meet
Sew 1" from corner of short side and down one open side
Repeat on opposite side
There should be a 3" opening between stitches
Turn right side out
Fill with rice
Prepare needle and thread for hand stitching
Close opening with a ladder stitch
Notes
To use, heat in microwave for 2-3 minutes.
More Easy Sewing Projects for Beginners